| Wakefield | | Observer |
| --- | --- | --- |
| | | |
| --- | --- | --- |
| Vol. 15, No. 40 | &nbsp | THURSDAY, OCTOBER 2, 1997 |
More than karate chops at Chung Moo Doe
INSIDE THE OBSERVER
Not just chops

Meet martial arts instructor Jim Rath of Chung Moo Doe
BY JOHN MCELHENNY
OBSERVER STAFF
The young boy in the white karate-style robe turns off Main Street in Wakefield and enters the world of the Orient through a beaded curtain. Inside are six young martial artists, led by Instructor James Rath.
"Bow in and go," says the boy's mother, just inside the door of Chung Moo Doe martial arts studio on Main Street.
It doesn't take much urging. The boy rushes into the training room to join his peers in stretching and tumbling.
Rath, a fourth-degree black belt, issues terse commands, as the students begin to warm up. Breathe. Reach to the ceiling. Touch your toes.
Noticeably absent are the jump kicks and karate chops most people associate with martial arts.
"That's what most people think of, the fighting of karate," says Rath. "That's only a very small part of what we teach here. The focus here is on an individual's mental and physical development, not breaking boards and jumpkicking over someone's head."
Instead, people who come to Chung Moo Doe -- roughly translated from Chinese, the name means "a path to a balanced mind and strong body" -- learn self-discipline through a regular training routine. They learn concentration, by exercising the mind, not just the body, during training. They learn hand-to-eye coordination, through practiced movements and, for older participants, work with staffs and other weapons.
But most of all, they develop confidence in themselves and their abilities, says Rath. It's that confidence that allows them to avoid conflict -- contrary to the popular image of martial artists as constantly in combat.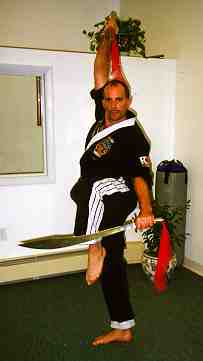 PHOTO BY JOHN MCELHENNY
Jim Rath of Chung Moo Doe

"A student becomes less aggressive," says Rath. "They know what they're capable of. They know they could defend themselves if they had to, so they tend to avoid conflict instead of trying to prove something."

The training isn't just for young boys, Rath notes. Martial artists of both sexes and of all ages come to Chung Moo Doe. The younger participants practice kicking, jumping and rolling, while older people work on improving their circulation, developing fluid movements and expanding the range of motion in their limbs.

"I have an 80-year-old woman who comes in," says Rath. "She's not going to be doing any high kicking of jumping."

Rath himself got into the martial arts at age 17 because of an interest in self--defense. Now 34, he's been teaching martial arts for 12 years and in Wakefield for almost a year.

These days, his favorite form of martial arts is weapons training. Rath practices with nine of 10 different types of weapons, he says, including long staffs, broad swords and straight swords.

The training improves his concentration, hand-to-eye coordination, and physical fitness. Like his students, Rath also improves his own self-confidence by training on a regular basis.

When he's not training students in the ways of Chung Moo Doe, Rath likes to fish in the lakes and streams near his home in Nashua, N.H.
---
---
All School of CHUNG MOO DOE® The CHONG SU NIM "IRON" KIM Style franchises are independently owned and operated.
---